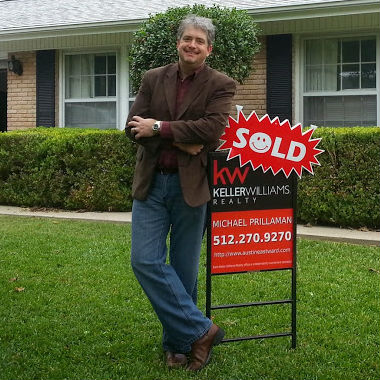 Michael Prillaman has been an Austin area Realtor® since 2001. A few short years after becoming a licensed agent, he and his wife, Stacey moved out to a new home community in Manor.  At the time, Manor was, nothing more than just a tiny, sleepy town located just to the east of Austin.  Michael soon realized that there was a great need for experienced agents that had a better understanding of the niche real estate markets that were emerging to the east of Austin. Out of this realization, Michael decided to make areas such as Manor, Pflugerville, Round Rock, Hutto, and Taylor the main focal point of his real estate business.  It was out of this that the concept of AustinEastward was born.   Because much of this area was (and still is in some places) mostly undeveloped farm land, Michael began assisting clients with land and commercial development properties, in addition to the typical residential side of the business. Michael joined the Mark Sawyer Team at Keller Williams' Northwest Market Center in 2014.
Besides being a Realtor®, Michael is  also a professionally trained musician. He currently assists with the music program at Oasis Church in Taylor, TX. Prior to that, Michael spent the better part of two decades working with the PromiseLand Church, where he served as horn/orchestra section leader and arranger.  Michael also sits in with various bands throughout the area from time to time.  Perhaps the most famous person he has shared the stage with might be  the R&B artist known as Archie Bell.
After living in the Manor area for over a dozen years, he and his wife  purchased a home in the nearby city of Taylor.  Since moving to Taylor, they have adopted three very energetic mixed Labs, and now have a daughter named Reagan.
Michael  currently serves on the Zoning Board of Adjustments for the city of Taylor and is a member of the Taylor Rotary Club.   Stacey a Texas-licensed professional counselor.
Contact me so I can keep you updated on the latest real estate activities in our community and answer any questions you may have.
Thanks for visiting! I look forward to assisting in all of your real estate needs!